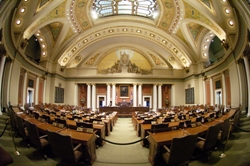 The Minnesota House of Representatives has passed HF322 – a bill that provides for a presumption of  joint physical custody in Minnesota.
The bill is opposed by the Minnesota State Bar Association's Family Law Section.
According to the bill, the presumption of joint physical custody could be overcome by a showing of mistreatment of a child or spouse that would trigger child protection proceedings.
Representative Melissa Hortman (D-Brooklyn Center) successfully added an amendment to require courts to report a finding of child abuse pursuant to the Maltreatment of Minors Act.  Representative John Leach (D-St. Paul) also added an amendment that allows for "virtual parenting time" via internet, phone, or other electronic means.
As a member of the MSBA's Family Law Section, I have mixed feelings.  I believe that both parents should have a place in their child(ren)'s lives.  I do, however, have concerns about the burden that the presumption could place on parents who, for example, want to move out of state.
Placing additional "presumptions" and other related burdens won't solve the fact that divorcing or separating couples typically don't get along very well.  The presumption of joint physical custody could place the children in a bad situation where they are forced to share equal parenting time with two feuding parents.
I'll keep readers of this blog posted on future movement on this bill.
Related posts: