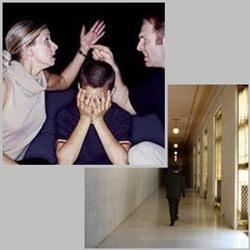 Seeking MN Child Support Guidance? How about child custody? Read on.
Although its always sad when any couple with children must file for divorce, at least parents in this state can benefit from our clearly drafted custody and support statutes.
Even a quick reading of Chapter 518 of the Domestic Relations statutes reveals that both parties rights are carefully protected while the court determines whats in the best interests of your children.
Before scheduling an appointment with your Minnesota family law attorney, take a few minutes to review Section 518.17 and the material below. It will provide you with a better understanding of how family courts weigh various factors while reaching custody and support decisions.
Useful Information Set Forth in Sections 518.17 and

518.157

on Child Custody and Support
Parenting classes. When custody and parenting time is contested during divorce proceedings, one or both parents may have to complete a parent education program. In some cases, children may also be asked to attend a special class. These programs provide useful skills for minimizing the negative impact of divorce on children — especially in regards to all custody and visitation issues;
Childrens complete needs must be addressed.

The courts have a duty to do all they can to properly provide for each childs physical, emotional, cultural, spiritual and educational needs. Special attention must also be paid to any child thought to have special health, educational or other requirements;

Mature children may get to state custody preferences.

Older children may be allowed to tell the court which parent they want to handle their primary custody needs;

Family violence. The courts may have to make special custody decisions when theres evidence of any past incidents of domestic violence or current threats

;

Initial presumption of parental fitness

. Until contrary evidence is presented, courts move forward with the assumption that both parents are equally capable and qualified to handle child custody and support responsibilities. However, courts will take formal notice of any proof indicating that one or both parents may be battling serious substance abuse issues. Finally, past and possible future military deployment will not automatically prevent one parent from gaining custody or reasonable visitation rights;

Each client must spend sufficient time with his/her lawyer discussing all custody and support preferences.

Your attorney will present all of your personal concerns regarding these crucial matters to the court;

New hearings may become necessary

. Be aware that when key circumstances change regarding all initial custody and support arrangements, a new hearing may have to be scheduled. Keep a flexible attitude so your children can keep fully benefitting from both parents input into their upbringing;

Always treat your ex-spouse with respect.

Every word you say about your ex and all of your actions will usually have a positive or negative effect on your childrens future ability to form nurturing adult relationships in the future. Kids are very perceptive about how you really think and feel about others.
The Court Will Issue an Order Detailing the Rights and Responsibilities of Both Parents
Minnesota family courts are required to make detailed findings on each of the factors referenced in 518.17 (a) regarding each childs needs. The courts final order will clearly state whether sole or joint custody of the children is being granted and all initial support obligations.
When theres been domestic violence in the past or when ongoing physical threats are still being made — the court will fully take those into consideration when issuing this order. The same holds true regarding a parent still needing treatment for substance abuse. Keep in mind that a parents successful completion of rehabilitation can lead to another future hearing when greater custody or visitation rights may be restored to that party.
Finally, ask your attorney to explain all of the basic rights youll have in regards to your children. Most of these are set forth under subdivision 3 (a) 1-7 of Section 518.17 of Minnesotas Chapter 518 on Domestic Relations. They include the right to be kept fully abreast of all serious health issues regarding your children and the right to obtain copies of all their medical and school records.
Minnesota Divorce Lawyers and Attorneys
Contact the law firm today to speak with an experienced divorce attorney in your area. Call for a free consultation at 612-424-0398.
Related posts: